Flowers Spice Box
$4,290.00
This exquisite spice box is an equally beautiful piece of art. Spices can be stored in a round compartment which is located as a drawer inside the base. The fragrance of the spices rises through the words from Hosea which are cut into the base in Hebrew: "I will be to Israel like the dew, he shall blossom like the lily, he shall strike root like the Lebanon. His boughs shall spread out far, His beauty shall be like the olive tree, His fragrance like that of Lebanon." In the center of the flower are seven cloves which symbolize the six days of the week which surround the Shabbat.
The flower is made of reddened copper and, as though time has taken its toll on them, the leaves are made from oxidized green copper. Copper was chosen because it was one of the main materials used in the making of the holy vessels in the Tabernacle and afterwards in the Temple. Illustrating the concept of historical continuity, the stem, made of stainless steel, represents a vertical time line. The base represents the time Israel was gathered into a nation; as one goes up, the three groups of leaves represent the Tabernacle and the first and the second Temples. The flower at the top of the stem symbolizes a prayer for future redemption and future rebuilding of the Temple.
The flowers can be removed from the base in order to pass them among participants in the havdalah ceremony.
In stock
More Details
Materials: Sterling Silver, copper, stainless steel
Size:  4″diam x 9 1/4″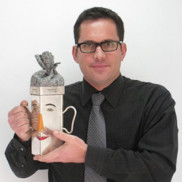 Meet the Artist: Avi Biran
Avi Biran creates contemporary Judaica that is a perfect blend of function, art, form, humor and joy. Avi studied at the Bezalel Academy of Art and Design, in Jerusalem, Israel. His artistic excellence earned him the Bezalel Prize for Outstanding Achievements and the prestigious Lucman Prize for Judaica, as well as the Jesselson Prize for Design of Contemporary Judaica awarded by the Israel Museum. His creations seamlessly integrate the requirements of Halachah (Jewish laws) with those of Hiddur Mitzva (meticulous performance of a commandment "in all its glory").
Learn More