Pomegranate Spice Box
$700.00
This spice box was inspired by the decoration on the stone above the door of the ancient synagogue in the Galilee village of Pki'in. A pomegranate is a symbol of blessing and abundance. With its 613 seeds, it serves as a constant reminder of the 613 Commandments in the Torah.
In stock
More Details
Materials: Painted brass, copper
Size: 6″ x 2 1/2″ x 3 1/4″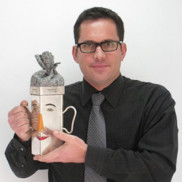 Meet the Artist: Avi Biran
Avi Biran creates contemporary Judaica that is a perfect blend of function, art, form, humor and joy. Avi studied at the Bezalel Academy of Art and Design, in Jerusalem, Israel. His artistic excellence earned him the Bezalel Prize for Outstanding Achievements and the prestigious Lucman Prize for Judaica, as well as the Jesselson Prize for Design of Contemporary Judaica awarded by the Israel Museum. His creations seamlessly integrate the requirements of Halachah (Jewish laws) with those of Hiddur Mitzva (meticulous performance of a commandment "in all its glory").
Learn More