Broken-Neck Haman Purim Gragger (Grogger)
$3,560.00
Broken-neck Haman is banging his head from side to side like a stubborn person saying 'No' all the time. His hands are in a surrender position and bang on his missing ears (which are on the Jewish Purim's plate as hamentashen: Haman's ear-shaped cookies). The noise of the grogger comes from Haman banging his head and from his loosely hanging bare feet banging against his wooden robe, a far cry from the royal robes he used to wear.
In stock
More Details
Materials: Mahogany, brass
Dimensions: 6″ x 3″ x 15″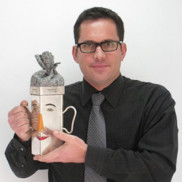 Meet the Artist: Avi Biran
Avi Biran creates contemporary Judaica that is a perfect blend of function, art, form, humor and joy. Avi studied at the Bezalel Academy of Art and Design, in Jerusalem, Israel. His artistic excellence earned him the Bezalel Prize for Outstanding Achievements and the prestigious Lucman Prize for Judaica, as well as the Jesselson Prize for Design of Contemporary Judaica awarded by the Israel Museum. His creations seamlessly integrate the requirements of Halachah (Jewish laws) with those of Hiddur Mitzva (meticulous performance of a commandment "in all its glory").
Learn More