Elephant Dreidel
$1,118.00
This dreidel has four elephants surround the forlorn and overturned helmet of Eleazar, one of the leaders of the Maccabian revolt against the Greeks. Eleazar is known for having killed the elephant that carried the Greek king in battle, saving his people.
As the dreidel spins the outline of the helmet in accentuated while the images of the elephants are completely blurred, alluding to the decline of the Greek empire and the rise the Jewish nation. At the end of the spin the elephants' tails strike the floor with a repetitive sound, symbolizing the chaos of war. When the dreidel falls onto its side, one of the four words: nes, gadol, haya, and po (a great miracle happened here) will be seen on the side of the elephant facing up.
In stock
More Details
Materials: Gold plate on sterling silver
Size: 2 1/2″ x 2 1/2″ x 3 3/8″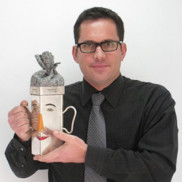 Meet the Artist: Avi Biran
Avi Biran creates contemporary Judaica that is a perfect blend of function, art, form, humor and joy. Avi studied at the Bezalel Academy of Art and Design, in Jerusalem, Israel. His artistic excellence earned him the Bezalel Prize for Outstanding Achievements and the prestigious Lucman Prize for Judaica, as well as the Jesselson Prize for Design of Contemporary Judaica awarded by the Israel Museum. His creations seamlessly integrate the requirements of Halachah (Jewish laws) with those of Hiddur Mitzva (meticulous performance of a commandment "in all its glory").
Learn More