Figs Shabbat Candlesticks
$400.00
Avi created candlesticks in the shape of a fig because of all of the fruit's symbolism: Unusual among fruit trees, the fig can produce fruit over a long season, from Shavuot to Sukkot (late May to early October). The figs cannot be picked at once, but only gradually, over a long season. Similarly, a person cannot learn the whole Torah at once, but only gradually, little by little, over an entire lifetime. Whenever one goes to the fig tree, one is likely to find ripe fruit to eat. Similarly, whenever one refers to the Torah, he or she will find nourishment for the spirit. Most fruits have inedible parts: dates have pits, grapes have seeds, pomegranates have skins. But every part of the fig can be eaten. Similarly, no part of the Torah is without value; all parts of it provide sustenance.
In stock
More Details
Materials: Anodized Aluminum
Size: 4 1/2″ x 4 1/2″ x 2″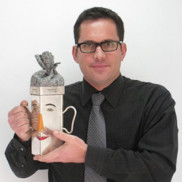 Meet the Artist: Avi Biran
Avi Biran creates contemporary Judaica that is a perfect blend of function, art, form, humor and joy. Avi studied at the Bezalel Academy of Art and Design, in Jerusalem, Israel. His artistic excellence earned him the Bezalel Prize for Outstanding Achievements and the prestigious Lucman Prize for Judaica, as well as the Jesselson Prize for Design of Contemporary Judaica awarded by the Israel Museum. His creations seamlessly integrate the requirements of Halachah (Jewish laws) with those of Hiddur Mitzva (meticulous performance of a commandment "in all its glory").
Learn More