Miriam's Cup – Kiddush Cup
$3,120.00
It is said in Exodus 15:20 that "Miriam the prophetess … took a timbrel in her hand, and all the women went out after her in dance with timbrels" across the Red Sea, singing Shirat Hayam (Song of the Sea). Those sounds of joy are heard as the timbrels ring when the cup is being used.
In addition, Miriam was known as a prophetess because she was able to locate underground water wells as the Jewish people traveled through desert. Hence, the cup is designed to pass through the timbrel like a well that goes into the ground.
In stock
More Details
Materials: Sterling silver, gold plate
Size:  3 1/2″ diam x 5″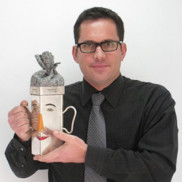 Meet the Artist: Avi Biran
Avi Biran creates contemporary Judaica that is a perfect blend of function, art, form, humor and joy. Avi studied at the Bezalel Academy of Art and Design, in Jerusalem, Israel. His artistic excellence earned him the Bezalel Prize for Outstanding Achievements and the prestigious Lucman Prize for Judaica, as well as the Jesselson Prize for Design of Contemporary Judaica awarded by the Israel Museum. His creations seamlessly integrate the requirements of Halachah (Jewish laws) with those of Hiddur Mitzva (meticulous performance of a commandment "in all its glory").
Learn More