Tekhelet Tallit Candlesticks
$1,200.00
The Tallit is a prayer shawl, a rectangular-shaped piece whose purpose is to hold special fringes called Tzitzit on each of the four corners. The Tallit can be used as a Chuppah – the canopy under which a Jewish couple stand during their wedding ceremony, and is also used as a wrap to bring one closer to the Lord. Just as the Chuppah symbolizes the home that the couple will build together, the design of these candlesticks combines the couple together with the Shabbat candles as a family at their home throughout an entire lifetime.
Why Blue? Light blue (Tekhelet) is a symbol of purity.
"…Instruct them to make for themselves fringes on the corners of their garments throughout the ages, let them attach a cord of blue to the fringe at each corner." (Numbers 15, 38)
"Blue is like sea, Sea is like sky, Sky is like the Throne of the Lord" (Sota 17B).
In stock
More Details
Materials: Sterling silver, anodized aluminum
Dimensions: 3″ x 3″ x 7″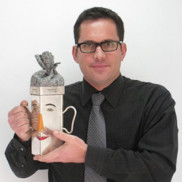 Meet the Artist: Avi Biran
Avi Biran creates contemporary Judaica that is a perfect blend of function, art, form, humor and joy. Avi studied at the Bezalel Academy of Art and Design, in Jerusalem, Israel. His artistic excellence earned him the Bezalel Prize for Outstanding Achievements and the prestigious Lucman Prize for Judaica, as well as the Jesselson Prize for Design of Contemporary Judaica awarded by the Israel Museum. His creations seamlessly integrate the requirements of Halachah (Jewish laws) with those of Hiddur Mitzva (meticulous performance of a commandment "in all its glory").
Learn More