Etrog Box for Succot
$4,190.00
The etrog box, used to protect the etrog citrus fruit used during the festival of Sukkoth, is designed in the shape of the fruit with a knob and a stalk with two leaves. The fruit is encircled with a silver band, designed as a heart, symbolizing the etrog fruit as the human heart. The text is from Leviticus 23:40: "On the first day you shall take the product of Hadar trees… and you shall rejoice before the Lord for seven days."
The etrog box is lined with linen padding to protect the delicate fruit, or the entire box can sit on a nest. The container is opened by a mechanism hidden in the stalk. The leaves serve as handles to carry the box.
In stock
More Details
Materials: Sterling silver, brass, patinated copper, linen
Size: 11″ x 5 1/2″ x 5″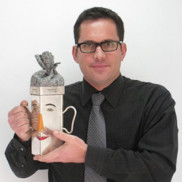 Meet the Artist: Avi Biran
Avi Biran creates contemporary Judaica that is a perfect blend of function, art, form, humor and joy. Avi studied at the Bezalel Academy of Art and Design, in Jerusalem, Israel. His artistic excellence earned him the Bezalel Prize for Outstanding Achievements and the prestigious Lucman Prize for Judaica, as well as the Jesselson Prize for Design of Contemporary Judaica awarded by the Israel Museum. His creations seamlessly integrate the requirements of Halachah (Jewish laws) with those of Hiddur Mitzva (meticulous performance of a commandment "in all its glory").
Learn More