Sack Tzedakah Box
$2,340.00
The sack charity box tells the story of Joseph and his brothers after arriving in Egypt the first time. Joseph, who planted money in his brothers' sacks, attribute the treasure to the Almighty. The sack is very light when empty to symbolize poverty. Looking down on its top, one sees a Star of David, celebrating giving charity as an essential mitzvah. The verse which inspired the design: "…There was each one's money in the mouth of his bag," is affixed in Hebrew as a design element to the front of the sack.
In stock
More Details
Materials: 24k gold plate on sterling silver, leather rope
Size: 4″ diam x 5 1/4″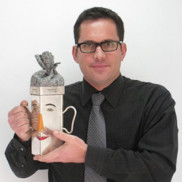 Meet the Artist: Avi Biran
Avi Biran creates contemporary Judaica that is a perfect blend of function, art, form, humor and joy. Avi studied at the Bezalel Academy of Art and Design, in Jerusalem, Israel. His artistic excellence earned him the Bezalel Prize for Outstanding Achievements and the prestigious Lucman Prize for Judaica, as well as the Jesselson Prize for Design of Contemporary Judaica awarded by the Israel Museum. His creations seamlessly integrate the requirements of Halachah (Jewish laws) with those of Hiddur Mitzva (meticulous performance of a commandment "in all its glory").
Learn More