Noah's Ark and Olive Branch Tzedakah Box
$88.00
Emily Rosenfeld's charity box is a contemporary interpretation of a traditional Jewish tzedakah box. The modern sensibility of the design together with its use of sustainable bamboo reinforces the idea of carrying ancient practice into our current lives. The Noah's ark design on the lid is joyous and symbolic; the olive branch for peace on the box meshes perfectly the mitzvah of giving tzedakah. Emily hopes that this box serves both as a literal repository for funds and as a symbolic container for the actions we can take in the aid of others.
The separate lid is held in place with magnets.
In stock
More Details
Materials: sustainable bamboo, pewter
Size: 4 1/2″ cube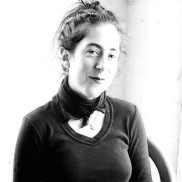 Meet the Artist: Emily Rosenfeld
Love, creativity, and community fuels Emily's work, and she crafts with joy. Emily, a jeweler by formal training, works with new materials and techniques to create jewelry, Judaica and other products that are full of joy and meaning. Her favorite metals are pewter and silver.
Learn More