Tzedakah Box & Megillah Case – "Cursed Be Haman – Blessed Be Mordecai"
$6,730.00
A rectangular box with four sides. The front two sides show the 'good' with the smiling face of Mordecai while the other two sides of the box show 'evil' with the angry face of Haman. These two colored faces as two colored masks reflect the joy and spirit of Purim. During Purim we are obliged to read the Scroll of Esther and to eat a special festive meal, drink wine, and be happy. We are obliged to give charity to the poor so that they will be able to have the festive meal as well. This Judaica object can help us to fulfill both these duties. By opening the hat we can place the Scroll of Esther (Megilah) inside the box or, alternatively, we can put money inside and use it as a charity box. The box is large enough to accommodate a wine bottle. The ears function as handles to carry the box.
In stock
More Details
Materials: Sterling silver, fabric, colored resin
Size: 9 1/2″ (handle to handle) x 3″ x 13″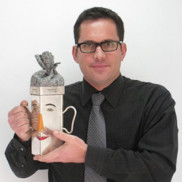 Meet the Artist: Avi Biran
Avi Biran creates contemporary Judaica that is a perfect blend of function, art, form, humor and joy. Avi studied at the Bezalel Academy of Art and Design, in Jerusalem, Israel. His artistic excellence earned him the Bezalel Prize for Outstanding Achievements and the prestigious Lucman Prize for Judaica, as well as the Jesselson Prize for Design of Contemporary Judaica awarded by the Israel Museum. His creations seamlessly integrate the requirements of Halachah (Jewish laws) with those of Hiddur Mitzva (meticulous performance of a commandment "in all its glory").
Learn More