Pewter Mezuzah Case Couple
$56.00
All of Emily Rosenfeld's mezuzah cases feature strongly graphic motifs, full of joy and symbolism. Made in pewter, they can be hung inside or out. This contemporary one represents making a life with your partner within your faith. The contrasting brass screws make them even more fun!
Parchment sold separately. Click here for more information.
Available on backorder
More Details
Materials: Pewter and brass screws
Size: 4 3/4″ x 1″ x 1/2″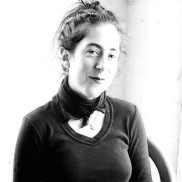 Meet the Artist: Emily Rosenfeld
Love, creativity, and community fuels Emily's work, and she crafts with joy. Emily, a jeweler by formal training, works with new materials and techniques to create jewelry, Judaica and other products that are full of joy and meaning. Her favorite metals are pewter and silver.
Learn More