Peace, Salaam, Shalom Silver Necklace
$54.00
The Cups Half Full series by Emily Rosenfeld features inspiring words and powerful phrases stamped onto flattened sterling silver arcs. This necklace has the word for peace in 3 languages, English, Arabic and Hebrew, stamped on a 1 1/2-inch-wide arc that's centered on a 16″ sterling silver cable chain.
In stock
More Details
Materials: sterling silver
Size: arc 1 1/2″;  16″ chain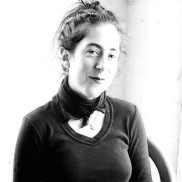 Meet the Artist: Emily Rosenfeld
Love, creativity, and community fuels Emily's work, and she crafts with joy. Emily, a jeweler by formal training, works with new materials and techniques to create jewelry, Judaica and other products that are full of joy and meaning. Her favorite metals are pewter and silver.
Learn More