Arbor Line Drawn Pewter Mezuzah Case
$50.00
Part of Emily Rosenfeld's new line drawn pewter mezuzah series, this mezuzah case has a modern, playful spirit. The image of a tree with its branches grown into a shin is engraved into the flat front of a rectangular pewter box. Made in pewter, it can be hung inside or out. The contrasting brass screws makes it even more fun!
Parchment sold separately. Click here for more information.
Available on backorder
More Details
Materials: pewter, brass screws
Size: 4 3/4″ x 1″ x 1/2″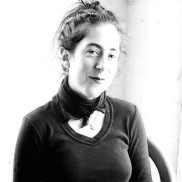 Meet the Artist: Emily Rosenfeld
Love, creativity, and community fuels Emily's work, and she crafts with joy. Emily, a jeweler by formal training, works with new materials and techniques to create jewelry, Judaica and other products that are full of joy and meaning. Her favorite metals are pewter and silver.
Learn More