Fabric Art Soft Angels by Tamar Messer
$175.00
What could be better than to have your own personal angel to watch over you? Sewn with love and care by noted Israeli artist and sculptor Tamar Messer, each angel has its own personality and clothes. Facial features are hand-embroidered; each angel comes with an attached loop so that she may be hung to stand guard over its owner.
More Details
Materials: Fabric
Size: 11 1/2″ x 4″ x 30″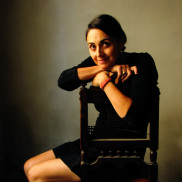 Meet the Artist: Tamar Messer
Tamar Messer is a highly talented and respected Israeli contemporary artist. The distinct, vivid and colorful style of her work draws upon a spirit of vitality that speaks directly to the hearts of the young and young at heart. Her artworks include paintings, 3D works and illustrated biblical books. Her style is a naïve one, and her imagery draws on the panoramas, seasons, flora and fauna of the Land of Israel, her color palate influenced by the vivid Mediterranean light, sun, and sea.
Learn More