"Maim Acronym" with Sprinkler and Grass (Fingerbowl water)
$3,770.00
Tradition dictates the ritual washing of finger tips of all remaining food before Grace after Meals. The design features a sprinkle that contains the water in the nickel pipe. To use the sprinkler you pull it out from its place in the AstroTurf and pure water on your tip of your fingers. The verse (Psalm 23) is cut out from around the gold plate base and describing our wish to be rest upon green meadows that will become more green by our water of fullfiling the Mitzvah.
In stock
More Details
Gold plate on brass, nickel plate, plastic, AstroTurf
Size: 15″ diam x 15″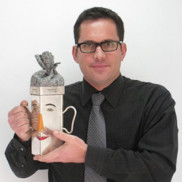 Meet the Artist: Avi Biran
Avi Biran creates contemporary Judaica that is a perfect blend of function, art, form, humor and joy. Avi studied at the Bezalel Academy of Art and Design, in Jerusalem, Israel. His artistic excellence earned him the Bezalel Prize for Outstanding Achievements and the prestigious Lucman Prize for Judaica, as well as the Jesselson Prize for Design of Contemporary Judaica awarded by the Israel Museum. His creations seamlessly integrate the requirements of Halachah (Jewish laws) with those of Hiddur Mitzva (meticulous performance of a commandment "in all its glory").
Learn More