If I Forget You, O Jerusalem, Kiddush Cup
$4,680.00
This wine cup actualizes the verse from Psalms: "If I forget you, O Jerusalem, let my right hand forget its cunning,"
by embossing our right hand into the walls of Jerusalem that surrounds the cup. When the cup is put down, we leave behind a void in the wall. To prevent this from happening we have to hold the cup continuously. The quoted verse is engraved on the open gate.
In stock
More Details
Materials: Sterling silver; gold plate interior
Size: 3 1/4″ diam x 4 1/4″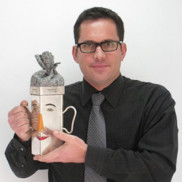 Meet the Artist: Avi Biran
Avi Biran creates contemporary Judaica that is a perfect blend of function, art, form, humor and joy. Avi studied at the Bezalel Academy of Art and Design, in Jerusalem, Israel. His artistic excellence earned him the Bezalel Prize for Outstanding Achievements and the prestigious Lucman Prize for Judaica, as well as the Jesselson Prize for Design of Contemporary Judaica awarded by the Israel Museum. His creations seamlessly integrate the requirements of Halachah (Jewish laws) with those of Hiddur Mitzva (meticulous performance of a commandment "in all its glory").
Learn More