E-Mail Mezuzah Case
$1,190.00
A mezuzah holder can have any form, it is the parchment inside that empowers it. This Mezuzah holder is in the shape of a computer with screen and keyboard. The keyboard has four keys, three show the letters: 'Shin', 'Dalet', 'Yod' ( one of the Almighty's names). Touching the letters connotes prayer and connection with the Almighty. When the 'Enter' key is kissed you are entitled to enter through the door. In effect, the Mezuzah affords protection which can be likened to an anti-virus shield. Note that the text on the "screen" is illustrative only. The authentic text is the one on the parchment inside the Mezuzah. Parchment not included.
In stock
More Details
Materials: Sterling silver, Laminated colored paper
Size: 5″ x 2 1/4″ x 3/4″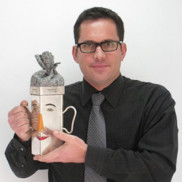 Meet the Artist: Avi Biran
Avi Biran creates contemporary Judaica that is a perfect blend of function, art, form, humor and joy. Avi studied at the Bezalel Academy of Art and Design, in Jerusalem, Israel. His artistic excellence earned him the Bezalel Prize for Outstanding Achievements and the prestigious Lucman Prize for Judaica, as well as the Jesselson Prize for Design of Contemporary Judaica awarded by the Israel Museum. His creations seamlessly integrate the requirements of Halachah (Jewish laws) with those of Hiddur Mitzva (meticulous performance of a commandment "in all its glory").
Learn More