Tzedakah Box – Outstretched Hand
$3,070.00
The design of this charity box is inspired by the biblical verse: "… Do not shut your hand against your needy kinsman. Rather, you must open your hand and lend him sufficient for whatever he needs." (Deut 15:7-8) The words are cut by hand in Hebrew on both sides of the box. The tzedakah money is put in through the slot beneath the thumb; the sides can be removed to empty the box.
In stock
More Details
Materials: Sterling silver, cork
Size: 7 1/2″ x 3 1/2″ x 3″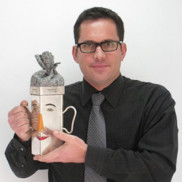 Meet the Artist: Avi Biran
Avi Biran creates contemporary Judaica that is a perfect blend of function, art, form, humor and joy. Avi studied at the Bezalel Academy of Art and Design, in Jerusalem, Israel. His artistic excellence earned him the Bezalel Prize for Outstanding Achievements and the prestigious Lucman Prize for Judaica, as well as the Jesselson Prize for Design of Contemporary Judaica awarded by the Israel Museum. His creations seamlessly integrate the requirements of Halachah (Jewish laws) with those of Hiddur Mitzva (meticulous performance of a commandment "in all its glory").
Learn More