Tzedakah Box With Kaparah (Atonement) Fowl In Mind
$4,190.00
This Tzedakah box brings to mind the specific Kaparot ritual on Yom Kippur (Day of Atonement). The traditional text of the blessing is engraved on the belt. The box combines the modern custom of using money for charity together with the symbol of the fowl that used to be slaughtered and given to the poor for their pre-fast meal. The functionality of the design enables the box to be opened by a spring action hidden in the wings. Money is dropped in through a slot beside the fowl's comb. Limited edition; signed by the artist.
In stock
More Details
Materials: Sterling silver, garnets
Dimensions: 5 3/4″ x 4 1/2″ x 7″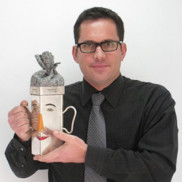 Meet the Artist: Avi Biran
Avi Biran creates contemporary Judaica that is a perfect blend of function, art, form, humor and joy. Avi studied at the Bezalel Academy of Art and Design, in Jerusalem, Israel. His artistic excellence earned him the Bezalel Prize for Outstanding Achievements and the prestigious Lucman Prize for Judaica, as well as the Jesselson Prize for Design of Contemporary Judaica awarded by the Israel Museum. His creations seamlessly integrate the requirements of Halachah (Jewish laws) with those of Hiddur Mitzva (meticulous performance of a commandment "in all its glory").
Learn More