Silver Traveling Matchbook Chanukah Menorah
$2,900.00
This menorah is styled to resemble a folding matchbook. The eight red metal "matchheads" are designed to accept small candles with a shorter black "matchhead" serving as the Shamash (the candle lit first to kindle the others). The blessings for Chanukah lighting are etched onto the background piece together with the words of the song "Haneirot Halalu" (these candles we light). This version of the matchbook Hanukah lamp is for travelling and has a folding back. An additional hinge which allows lifting of the candle holders for easy cleaning is included. Limited edition.
In stock
More Details
Materials: Sterling silver, brass, copper, leather
Size: 3 1/2″ x 3 1/2″ x 3 1/4″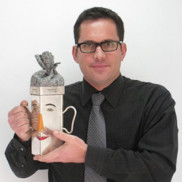 Meet the Artist: Avi Biran
Avi Biran creates contemporary Judaica that is a perfect blend of function, art, form, humor and joy. Avi studied at the Bezalel Academy of Art and Design, in Jerusalem, Israel. His artistic excellence earned him the Bezalel Prize for Outstanding Achievements and the prestigious Lucman Prize for Judaica, as well as the Jesselson Prize for Design of Contemporary Judaica awarded by the Israel Museum. His creations seamlessly integrate the requirements of Halachah (Jewish laws) with those of Hiddur Mitzva (meticulous performance of a commandment "in all its glory").
Learn More