Baby Silver Spoons
$310.00
Traditional gift for the newborn according to the ancient custom of supplying a silver spoon in the hope that he or she will grow up "with a silver spoon in his or her mouth."
The boy's spoon is engraved on the front with the appropriate traditional verse: "The woman conceived and bore a son and she saw how beautiful he was…". Likewise, the girl's spoon is engraved also with the appropriate quotation: "Only one is my dove, my perfect one, the only one of her mother, the delight of her who bore her.".
On the back of each spoon, this following blessing is engraved in Hebrew:
"In commemoration of this day (Hebrew date) born to us in good luck our son/daughter (full name) in the year (Hebrew year) , The Almighty who sits with cherubim, may you hear and listen to the prayers and appeals of your servants (parents name) as you gave us this son/daughter so we shall be privileged to raise him/her to Torah, Huppah and good deeds. Amen."
More Details
Materials: Sterling silver
Size: 4 3/4″ x 1″ x 1/4″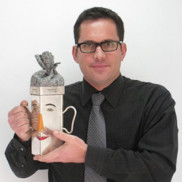 Meet the Artist: Avi Biran
Avi Biran creates contemporary Judaica that is a perfect blend of function, art, form, humor and joy. Avi studied at the Bezalel Academy of Art and Design, in Jerusalem, Israel. His artistic excellence earned him the Bezalel Prize for Outstanding Achievements and the prestigious Lucman Prize for Judaica, as well as the Jesselson Prize for Design of Contemporary Judaica awarded by the Israel Museum. His creations seamlessly integrate the requirements of Halachah (Jewish laws) with those of Hiddur Mitzva (meticulous performance of a commandment "in all its glory").
Learn More