Yahrzeit Memorial Candle Cover
$650.00
It is a custom to rend one's clothes the moment one hears news of a passing. The mourners traditionally make a tear (in Hebrew: "keriah") in an outer garment either before the funeral or immediately after it. The tear should be on the left side for a parent (over the heart and clearly visible) and on the right side for brothers, sisters, children and spouses (and does not need to be visible). The concept of the tear is the main idea behind this design. The purpose of the design is to cover a Yahrtzeit candle (literally "Time of Year candle" in Yiddish). This annual rememberance custom that is deeply ingrained in Jewish life for honoring the memory and souls of the deceased, is to light a candle that lasts for 24 hours on the anniversary of the deceased relative's death according to the Hebrew calendar.
In stock
More Details
Materials: 24 carat gold plate
Size: 2 3/8″ diam x 2 1/2″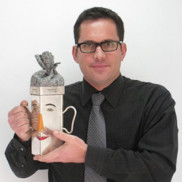 Meet the Artist: Avi Biran
Avi Biran creates contemporary Judaica that is a perfect blend of function, art, form, humor and joy. Avi studied at the Bezalel Academy of Art and Design, in Jerusalem, Israel. His artistic excellence earned him the Bezalel Prize for Outstanding Achievements and the prestigious Lucman Prize for Judaica, as well as the Jesselson Prize for Design of Contemporary Judaica awarded by the Israel Museum. His creations seamlessly integrate the requirements of Halachah (Jewish laws) with those of Hiddur Mitzva (meticulous performance of a commandment "in all its glory").
Learn More