"Trash Can" Spice Box
$820.00
Centuries ago in Europe, spices were very rare and therefore very expensive. They were stored in the city's well-kept towers. This is one of the reasons why Jews designed spice containers that look like towers. Today, spices are common and no longer kept in towers. The only smells left at those towers are from garbage lying near them. Avi took the shape of a garbage container and gave it a good smell instead of bad. This brings a mundane symbol from the profane side closer to the border distinguishing it from the sacred.
Out of stock
More Details
Materials: Sterling Silver (black oxidation)
Size: 1 1/2″ x 1 1/8″ x 2 1/4″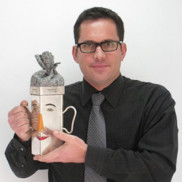 Meet the Artist: Avi Biran
Avi Biran creates contemporary Judaica that is a perfect blend of function, art, form, humor and joy. Avi studied at the Bezalel Academy of Art and Design, in Jerusalem, Israel. His artistic excellence earned him the Bezalel Prize for Outstanding Achievements and the prestigious Lucman Prize for Judaica, as well as the Jesselson Prize for Design of Contemporary Judaica awarded by the Israel Museum. His creations seamlessly integrate the requirements of Halachah (Jewish laws) with those of Hiddur Mitzva (meticulous performance of a commandment "in all its glory").
Learn More