Hamsa For Home
$365.00
"Hamsah" – from Arabic meaning "five". This is a local symbol with five fingers of the open hand warding off against the evil eye. The verses, from Proverbs: "A house is build by wisdom, And is established by understanding. By knowledge are its rooms filled with all precious and beautiful things," are cut out from the Hamsah while the word "House/Home" is cut out with a bigger font.
In stock
More Details
Materials: Brass
Size: 3 7/8″ x 5″ x 1/8″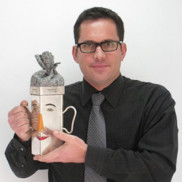 Meet the Artist: Avi Biran
Avi Biran creates contemporary Judaica that is a perfect blend of function, art, form, humor and joy. Avi studied at the Bezalel Academy of Art and Design, in Jerusalem, Israel. His artistic excellence earned him the Bezalel Prize for Outstanding Achievements and the prestigious Lucman Prize for Judaica, as well as the Jesselson Prize for Design of Contemporary Judaica awarded by the Israel Museum. His creations seamlessly integrate the requirements of Halachah (Jewish laws) with those of Hiddur Mitzva (meticulous performance of a commandment "in all its glory").
Learn More