Haman's Ten Sons Purim Gragger (Grogger)
$1,345.00
When people read the names of the ten sons of Haman during the reading of the Scroll of Esther, they are supposed to read them in one breath. The design of this piece is based upon this custom. The names of the ten sons are etched onto the paper clip together. The large pin functions as a pointer with which to read the scroll . With the leather hanging rope we hang the ten sons 'as one' and with the pin we hit them (like a triangle musical instrument) to make the noise of the grogger. The paper clip functions as a Megilah holder by clipping it on the Scroll after finishing reading it. All you need for Purim is in this uniquely designed piece.
In stock
More Details
Materials: Sterling silver, leather
Size: 8 1/4″ x 1 3/4″ x 1/4″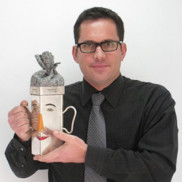 Meet the Artist: Avi Biran
Avi Biran creates contemporary Judaica that is a perfect blend of function, art, form, humor and joy. Avi studied at the Bezalel Academy of Art and Design, in Jerusalem, Israel. His artistic excellence earned him the Bezalel Prize for Outstanding Achievements and the prestigious Lucman Prize for Judaica, as well as the Jesselson Prize for Design of Contemporary Judaica awarded by the Israel Museum. His creations seamlessly integrate the requirements of Halachah (Jewish laws) with those of Hiddur Mitzva (meticulous performance of a commandment "in all its glory").
Learn More