Maple and Pewter Menorah
$330.00
Cut from a tree that has already fallen, this spalted maple tree of life menorah features patterning which results from its time on the forest floor. Each piece of wood has its own unique texture and shape. Artist Emily Rosenfeld has kept the living edge to reinforce the organic nature of the material, which so beautifully echoes the tree of life theme of Chanukah and the pewter design on the menorah's front.
Available on backorder
More Details
Materials: Pewter and spalted maple wood
Size: 10 1/4″ x 7″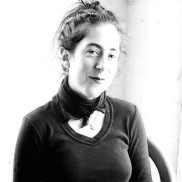 Meet the Artist: Emily Rosenfeld
Love, creativity, and community fuels Emily's work, and she crafts with joy. Emily, a jeweler by formal training, works with new materials and techniques to create jewelry, Judaica and other products that are full of joy and meaning. Her favorite metals are pewter and silver.
Learn More