Traditional Yemenite Silver Choker Necklace
$974.00
This handmade silver choker necklace is a magnificent work of art and is inspired from an early 20th century original ethnic tribal Jewish festivity necklace known as the "ma'nageh". Worn commonly by Jewish women, this motif has a long history and is found in Pharaonic and African jewelry as well. The end plaques, known as the "tadarif" are decorated with filigree work and granulation common to Yemenite craftsmanship and their geometric design is the focus of attention with a multitude of silver beading alternating with small onyx beads between them.
All of Ben-Zion's jewelry is handmade from sterling silver. The artist prepares the silver threads himself, interweaving them to the left and to the right in order to achieve that special and unique braided effect. Ben-Zion explains: "My filigree jewelry is made using a very old technique that is disappearing from our world. Creating a masterpiece requires attention to fine details, great imagination and of course, patience."
In stock
More Details
Materials: Sterling silver, onyx
Length: 18; chains start 2″ wide and hang about 3″
Comes with both a hook and a toggle to enable you to lengthen and shorten the choker.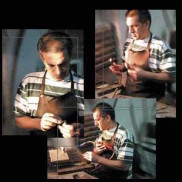 Meet the Artist: Ben-Zion David
The art of Yemenite silver and goldsmith has run in the family's veins for eight generations and Ben-Zion David (Benzi) has this skill in his genes. At the age of ten he began helping his father in his workshop preparing and interweaving the silver threads. "I am still using ancient methods to make jewelry, maybe more advanced than my grandfather's, but not very modern," says Ben-Zion. "Till this day, all the tools I work with have Yemenite names. Each small jewelry piece, each individual thread has a name."

Learn More