100% Eco-Friendly Princess Hand Puppet
$25.00
Each one of these hand puppets is created in Canada of recycled wool — with love and exclusivity in mind. They are 100% eco-friendly and extremely soft, safe for the environment and for children to play with. No two are identical, as each has its own unique color combination — you are guaranteed to never see another hand puppet exactly like yours!
If you are looking for a charming or an engaging gift or to spend more time with your children, hand puppets are definitely the answer. Help foster creativity and imagination by telling stories with a puppet. These puppets are perfect for kids or adult presentations, school plays, or just another fun night at home with the kids — storytelling like the old days.
In stock
More Details
Materials: Reclaimed wool – the softest non-itchy fabric
Size: 12″ tall
Fits kids and adults alike.
No special handling instructions: it can be either hand washed or machine washed in warm water.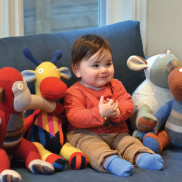 Meet the Artist: Cate & Levi – Josh Title
The Cate & Levi Collection is handmade at Josh's studio in Toronto, Canada. Together with his talented production team, Josh oversees every aspect of this collection. All the materials are sourced as close to home as possible. This process cuts down on shipping and reduces our carbon footprint. The choice of reclaimed wool reduces demand for new materials that require both water and oil for production. Josh's goal is for these items to leave the softest possible pawprint on our planet.
Learn More