DIY 100% Eco-friendly Giraffe Puppet Making Kit
$20.00
We love being makers and want to share our craft with YOU!  Our wool puppet kits are one-of-a-kind puppet making kits that anyone who loves crafts and puppets will love to create and show off to their friends and family. Each kit includes everything needed to make a one-of-a- kind puppet.
And the best part…Zero Waste! When you have finished making your puppet, display proudly over the cardboard tube. Want to give a gift of creativity?…simply fill out the address sticker on the back of the tube and mail it.
In stock
More Details
Our DIY puppet making kit includes: reclaimed wool – the softest non-itchy fabric; needle; thread; pattern; instructions; our signature eyes
Size: finished puppet about 10″
Ages 7+ / beginner-intermediate / 4-6 hours to complete
No special handling instructions: it can be either hand washed or machine washed in warm water.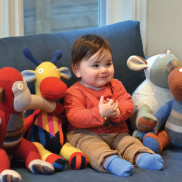 Meet the Artist: Cate & Levi – Josh Title
The Cate & Levi Collection is handmade at Josh's studio in Toronto, Canada. Together with his talented production team, Josh oversees every aspect of this collection. All the materials are sourced as close to home as possible. This process cuts down on shipping and reduces our carbon footprint. The choice of reclaimed wool reduces demand for new materials that require both water and oil for production. Josh's goal is for these items to leave the softest possible pawprint on our planet.
Learn More