Karla Gudeon
Gudeon Family Press came to be in 1998 when Karla left a teaching career to pursue her art full-time. She was determined to set an example for her young children when telling them they should grow up to pursue their passions. Upon buying a printing press, Karla developed her distinctive approach to the age-old technique of hand colored engraving, building upon the watercolor work she honed at Parsons School of Design. Karla's current body of work is influenced by illuminated manuscripts and folk art and thematically portrays the most meaningful elements of her life: family, culture, strong women, an open-minded worldview, and the natural world. Karla chose the name Gudeon Family Press for her collection as a tribute to her parents, grandparents, siblings, step-siblings, aunts, uncles, and cousins who demonstrate how life can be lived as an artistic extravaganza. Karla's celebrated paintings are displayed in galleries and distinguished collections throughout the country and abroad. Her images have been commissioned for book covers, calendars, greeting cards, and award winning children's books. Karla lives in New York with her supportive husband, Kevin, and her two amusing sons, Sam and Max. The Technique - Hand Painted Engravings By combining printmaking and painting, Karla creates joyous images that resonate with life affirming spirit. Karla incises the outline for each of her original designs into a metal plate. She then inks and wipes the plate so that only the black lines appear on paper when the print is pulled through the press. For each individual image in the limited edition, Karla repeats the intaglio process. Karla then paints each work of art in lush, rich watercolor hues, thus achieving one-of-a-kind status for each piece. Karla works directly with her papermaker who makes the papers by hand from jute, garlic-skin, rice-straw, flax, and other organic materials. Fiber inclusions and natural variations in the handmade papers lend charm, warmth and character to her lyrical paintings.
Visit Artist's Website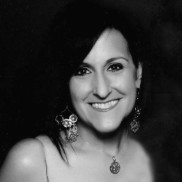 "I love homecomings! I'm so happy that my paintings have found their way back home to Karen and Jay Schecter at The Aesthetic Sense: Goods for the Soul. Karen and Jay always impress me with their sophisticated, exquisite taste level. This combined with their integrity and desire to offer ethically produced goods makes me proud to be a part of this new venture."