Head: Baby's Soul
$100.00
This whimsical small art object is crafted of cutout steel printed with silk screen. These series of heads perfectly capture emotion and personality and combine humor, sincerity and art. Painted on both sides; turn it to match your mood.
In stock
More Details
Materials: Silk screened steel
Size: 6 1/4″ x 2 1/2″ x 8″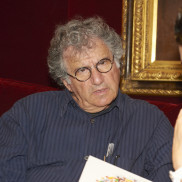 Meet the Artist: David Gerstein
David Gerstein is widely considered to be one of the most creative and innovative artists in the world today. His monumental statues adorn Israeli cities; a playground of his invention continues to delight the children of Jerusalem; the Hebrew University ordered an ambitious and challenging project from Gerstein: the design of various statues which will symbolize - based on criteria of good taste, common sense and a high level of communication - the various University institutions and faculties; a television show has chosen to decorate its broadcasting studio with his works, in the hope that the pieces' tremendous popularity will attract viewers to the show.

Learn More