Dori Schechtel Zanger
Dori Schechtel Zanger was born and raised in Argentina, where she studied at the University of Fine Art in her home town of La Plata. She moved to Israel at the age of 21 to study art at the Bezalel Academy of Arts and Design in Jerusalem. One of Israel's preeminent ceramic artists, Dori's sculptures and functional art tell extraordinary stories. Dori has always been drawn to the popular folk art of south America with its colorfulness, details and sense of carnival. The simplicity, colorfulness and naive way of telling stories is a major influence on her work. Dori dresses the clay platform with color and detail telling stories from her everyday life; cultural, social and personal experiences combine with imagination to tell her story. In Dori's own words: "All that surrounds me, exits me and influences me eventually shows up in my work. I have always been fascinated by the ability of the ceramic work to tell a story. Images upon a three dimension object give me a visual language to communicate speechlessly with the viewer. I try to evoke thought and contemplation, my work has a critical dimension and caries a message." Dori's inspiration comes from all aspects of her life. Personal and collective memories and experiences,  war,  environment, religion, culture, imagination and reality all come together to tell a story of frozen moments in time from different stations of her life. As the years go by, her stories become more and more personal, and expressed in ever-more and more beautiful work. Dori's work has been exhibited in museums across the world, including in the U.S., Israel, Germany, Spain, Canada, Italy, Taiwan, and France. Other highlights of her career include her service as a Member of The Israel Ceramics artist association and member of the Exhibitions board;  2012 Ceramic residency, Haviva shed, Giv at Haviva, Israel; 2011 Ceramic residency, Watershed, Main, USA – full Aida scholarship; 2009 International symposium of Mayolica – Um el Fahem museum; 2001 International symposium of Tel Hay – workshop leader.
Visit Artist's Website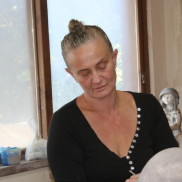 "Working with the Aesthetic Sense enables me to reach out to a wide audience through a professional gallery. They are committed to a standard of high quality art work and respect for their artists."
More Works by
Dori Schechtel Zanger