Yin Yang Bracelet Brown
$119.00
Part of Carol's Spiritual Line, Yin Yang represents two primary forces. Together they form Chi, the life force that has its roots in ancient Chinese beliefs and traditional Chinese medicine. Yang, the "male" side, is pure energy and corresponds to heaven. Yin, the "female" side, is substance, and represents earth. The interaction of these forces is what determines the nature of the Universe; their relationship is manifested in 5 elements – Wood, Fire, Earth, Metal, and Water – which according to the tradition of Chi, make up all things. In further keeping with this tradition, the key to balance in life is to have a balance between each of these elements. Each of the elements represents a season, a role in life cycle, and our emotional and physical health. Brown represents the element Earth, and Late Summer, Sympathy, and Manifestation. Wear Brown to be mindful of bringing this element into balance in your own life.
The band is black rubber and fits a 7″ wrist. The yin yang and the fittings are edged in gold plated silver.
In stock
More Details
Materials: sterling silver, gold plate, enamel, rubber
Size: pendant 1″ diam; bracelet fits a 7″ wrist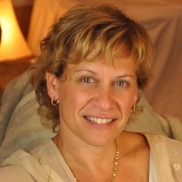 Meet the Artist: Carol Offman – Inner Expressions
Founder Carol Offman's love for jewelry began as a child, when she would visit her father and grandfather, who were both hand engravers in the NYC Diamond District. She was immediately drawn to the artistry and patience involved in the craft of jewelry making. She has been designing and manufacturing colored gemstone and diamond jewelry for over 25 years, combining her years of experience with an eye for trends. As a mom and a female entrepreneur, Carol has a deep passion for inspiring women to express their individual style, providing versatility in her designs while paying exquisite detail to fine design and finishes.
Learn More