Word Bead Bracelet
$30.00
This unusual bracelet made by Emily Rosenfeld is strung with a single pewter bead on which an inspiring word is etched in English and Hebrew, wrapping around the bead's surface. The bead is strung on two 7″ silver-toned antique chains, and as it spins, the word repeats.
Choose one of 4 words: DREAM, BELIEVE, LOVE, JOY.
More Details
Material: Pewter
Length: 7″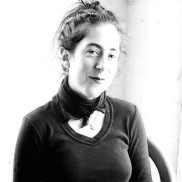 Meet the Artist: Emily Rosenfeld
Love, creativity, and community fuels Emily's work, and she crafts with joy. Emily, a jeweler by formal training, works with new materials and techniques to create jewelry, Judaica and other products that are full of joy and meaning. Her favorite metals are pewter and silver.
Learn More