Tree of Life Mezuzah Case
$120.00
"And from the ground the Lord G-d caused to grow every tree that was pleasing to the sight and good for food, with the tree of life in the middle of the garden, and the tree of knowledge of good and bad." (Genesis 2, 9). The Hebrew letter "Shin" that is placed on the Mezuzah as the first letter of one of G-d's names, is formed by the leaves. Pomegranate leaves symbolize abundance and prosperity. Comes in two sizes – to suit 6cm or 12cm parchments.
More Details
Materials: Copper, patinated copper; coated with a clear protective layer to prevent oxidation.
Size: Large: 8 1/2″ x 2″ x 1/2″ – Small: 6 1/4″ x 2″ x 1/2″
Parchment sold separately; Click here for more information.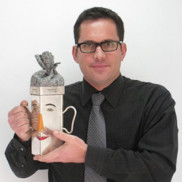 Meet the Artist: Avi Biran
Avi Biran creates contemporary Judaica that is a perfect blend of function, art, form, humor and joy. Avi studied at the Bezalel Academy of Art and Design, in Jerusalem, Israel. His artistic excellence earned him the Bezalel Prize for Outstanding Achievements and the prestigious Lucman Prize for Judaica, as well as the Jesselson Prize for Design of Contemporary Judaica awarded by the Israel Museum. His creations seamlessly integrate the requirements of Halachah (Jewish laws) with those of Hiddur Mitzva (meticulous performance of a commandment "in all its glory").
Learn More