Traveler's Prayer Keychain
$28.00
Jewelry artist Emily Rosenfeld designed this pewter cylinder to hold the traditional Old Testament traveler's prayer of protection. It is a talisman meant to bring solace to those journeying from home. Whether embarking on a literal or a symbolic journey, it is meant to help you feel strong and safe by connecting you to your faith. The talisman comes with a card describing the big meaning of this small gift.
Available on backorder
More Details
Materials: Pewter
Size: cylinder 2″; 1″split key ring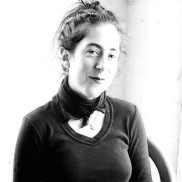 Meet the Artist: Emily Rosenfeld
Love, creativity, and community fuels Emily's work, and she crafts with joy. Emily, a jeweler by formal training, works with new materials and techniques to create jewelry, Judaica and other products that are full of joy and meaning. Her favorite metals are pewter and silver.
Learn More