Swimming Girl
$695.00
A girl of Israel: pensive, brave, and ready to jump in!
Israeli artist Dori Schectel Zanger is famous for her girls: figures inspired by her own life experiences. This one, while pensive and knowing that she needs the support of her arm floats, is nevertheless ready to dive in. The sculpture is designed to sit on any shelf or table. Signed by the artist.
Out of stock
More Details
Materials: Ceramic
Size: 10″ x 8″ x 15″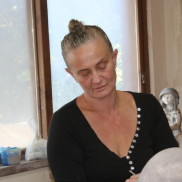 Meet the Artist: Dori Schechtel Zanger
Dori Schechtel Zanger was born in Argentina and moved to Israel in 1983, where she studied at Bezalel Academy of Arts and Design in Jerusalem. One of Israel's preeminent ceramic artists, Dori's sculptures and functional art tell extraordinary stories.

In Dori's own words: "All that surrounds me, exits me and influences me eventually shows up in my work.

I have always been fascinated by the ability of the ceramic work to tell a story. Images upon a three dimension object give me a visual language to communicate speechlessly with the viewer." Dori's work is exhibited in museums and fine galleries throughout the world.
Learn More