Softy Tooth Fairy Pillow
$20.00
Kids of all ages will keep this pillow on their bed every night waiting for the Tooth Fairy to visit, and this unique Tooth Fairy Pillow with its small pouch for the tooth and the reward can ensure that neither the tooth nor the reward are lost in the dark of the night! The brightly colored, ecofriendly pillows are made from 100% USA polar fleece. The fleece, while made from recycled plastic water bottles, is extremely soft to the touch and is perfect for the whimsical nature of these creations, not to mention to fall asleep on. Since Cate and Levi's fleece toys and animals are made from eco friendly materials, they are not only cool, they contain NO harmful toxins, and they help save the planet as well! No worries for you and nothing but fun and love for your child.
Kids of all ages love our Tooth Fairy pillow and keep it on their bed every night waiting for the Tooth Fairy to visit. Between visits our pillow is easy to keep your Tooth Fairy pillow clean since it is machine washable on warm and perfect to dry on low in any home dryer.
All Cate and Levi wool toys are hand made. The beauty of Cate and Levi toys is that no two toys are identical, as each toy has a unique color combination.
Materials: outside= reclaimed wool, inside= recycled poly stuffing (machine wash warm, dry low)
Size: between 12″- 15″ tall
More Details
Materials: 100% US polar fleece, made from recycled water bottles.
Size: about 8″ x 8″ x 3 1/4″ deep
No harmful toxins.
Can be hand washed or machine washed in warm water; dry on low for best results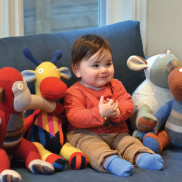 Meet the Artist: Cate & Levi – Josh Title
The Cate & Levi Collection is handmade at Josh's studio in Toronto, Canada. Together with his talented production team, Josh oversees every aspect of this collection. All the materials are sourced as close to home as possible. This process cuts down on shipping and reduces our carbon footprint. The choice of reclaimed wool reduces demand for new materials that require both water and oil for production. Josh's goal is for these items to leave the softest possible pawprint on our planet.
Learn More