Silver Star of David Mezuzah Necklace
$120.00
This mezuzah necklace by Emily Rosenfeld features a graphic Star of David held within the frame of a sterling silver pendant. The reverse shows a Shin held within a silver frame. Both sides are carved deeply into a black oxidized background.
Available on backorder
More Details
Materials: sterling silver
Size: pendant 1 1/4″ x 3/8″;  20″ sterling chain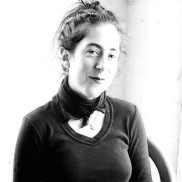 Meet the Artist: Emily Rosenfeld
Love, creativity, and community fuels Emily's work, and she crafts with joy. Emily, a jeweler by formal training, works with new materials and techniques to create jewelry, Judaica and other products that are full of joy and meaning. Her favorite metals are pewter and silver.
Learn More