Yemenite Silver Filigree Earrings With Stones
$81.00
Sterling silver round shaped drop earrings with center semi-precious stone and bordered with traditional Yemenite style pressed braid.
All of Ben-Zion's jewelry is handmade from sterling silver. The artist prepares the silver threads himself, interweaving them to the left and to the right in order to achieve that special and unique braided effect. Ben-Zion explains: "My filigree jewelry is made using a very old technique that is disappearing from our world. Creating a masterpiece requires attention to fine details, great imagination and of course, patience."
More Details
Materials: Sterling silver with turquoise or cornelian.
Size: from hook 1 3/8″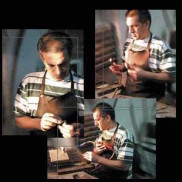 Meet the Artist: Ben-Zion David
The art of Yemenite silver and goldsmith has run in the family's veins for eight generations and Ben-Zion David (Benzi) has this skill in his genes. At the age of ten he began helping his father in his workshop preparing and interweaving the silver threads. "I am still using ancient methods to make jewelry, maybe more advanced than my grandfather's, but not very modern," says Ben-Zion. "Till this day, all the tools I work with have Yemenite names. Each small jewelry piece, each individual thread has a name."

Learn More