Omer Counter
$1,950.00
The design shows a stalk of grain growing from the soil. Along the length of the stalk and head of grain, the quotation: "You shall count off seven weeks; start to count the seven weeks when the sickle is first put to the standing grain." is sewn from the material. Two lines of grains, one representing the seven days and the other the seven weeks. Counting is done by moving two yellow grains in each line as shown in the side picture (the picture shows five weeks and two days of the count).
In stock
More Details
Materials: Gold plate on brass; soil
Dimensions: 2 7/8″x 2 3/4″ x 8″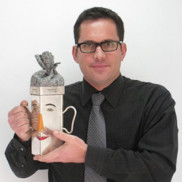 Meet the Artist: Avi Biran
Avi Biran creates contemporary Judaica that is a perfect blend of function, art, form, humor and joy. Avi studied at the Bezalel Academy of Art and Design, in Jerusalem, Israel. His artistic excellence earned him the Bezalel Prize for Outstanding Achievements and the prestigious Lucman Prize for Judaica, as well as the Jesselson Prize for Design of Contemporary Judaica awarded by the Israel Museum. His creations seamlessly integrate the requirements of Halachah (Jewish laws) with those of Hiddur Mitzva (meticulous performance of a commandment "in all its glory").
Learn More