Mask Vase – Bird Eyes Wide Open
$225.00
Big red beak and all, this handcrafted ceramic vase is as much a piece of sculpture as it is a functional vase.
This handrafted vase, a humorous depiction of a bird with eyes wide open and a protruding, big red beak, is as much a piece of sculpture as it is a functional vase. Its color and whimsy will add design to any setting; the body is painted with designs inspired by the fruits of the Land of Israel. Accented with gold leaf. Signed by Israeli artist Dori Schechtel Zanger.
Out of stock
More Details
Materials: Ceramic
Size: 13″ x 6″ x 4″ (7″ to the tip of the beak);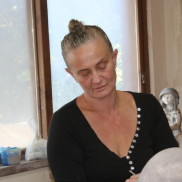 Meet the Artist: Dori Schechtel Zanger
Dori Schechtel Zanger was born in Argentina and moved to Israel in 1983, where she studied at Bezalel Academy of Arts and Design in Jerusalem. One of Israel's preeminent ceramic artists, Dori's sculptures and functional art tell extraordinary stories.

In Dori's own words: "All that surrounds me, exits me and influences me eventually shows up in my work.

I have always been fascinated by the ability of the ceramic work to tell a story. Images upon a three dimension object give me a visual language to communicate speechlessly with the viewer." Dori's work is exhibited in museums and fine galleries throughout the world.
Learn More