Healing Wheel Keychain
$30.00
This Healing Prayer wheel has three spinning beads on which to meditate. Artist Emily Rosendfeld took its text from the Mishebarakh; the words Heal, Restore, Strengthen and Enliven revolve around the phrase "healing of the body, healing of the soul." Use this wheel to focus the vast power of faith and love towards your own healing, or the healing of someone you love.
Available on backorder
More Details
Materials: Pewter
Size: cylinder 1 1/2″; 1″split key ring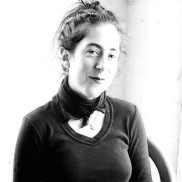 Meet the Artist: Emily Rosenfeld
Love, creativity, and community fuels Emily's work, and she crafts with joy. Emily, a jeweler by formal training, works with new materials and techniques to create jewelry, Judaica and other products that are full of joy and meaning. Her favorite metals are pewter and silver.
Learn More