Hand and Hand Handwasher
$140.00
The design of this hand washer is inspired by the "Half & Half" container. The container holds two equivalent portions of the ancient Hebrew amount of "Revi'it" (water) – the amount prescribed by Halacha (Jewish law) for washing the hands after sleeping or before eating. Both the Hebrew and English texts on the sides refer to the act of hand washing. A set of fingers is pressed into each side in the places where one holds the container with each hand to conform to ritual.
More Details
Materials: Porcelain
Square: 2 3/4 " square x 5″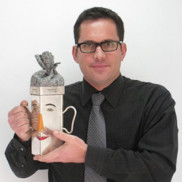 Meet the Artist: Avi Biran
Avi Biran creates contemporary Judaica that is a perfect blend of function, art, form, humor and joy. Avi studied at the Bezalel Academy of Art and Design, in Jerusalem, Israel. His artistic excellence earned him the Bezalel Prize for Outstanding Achievements and the prestigious Lucman Prize for Judaica, as well as the Jesselson Prize for Design of Contemporary Judaica awarded by the Israel Museum. His creations seamlessly integrate the requirements of Halachah (Jewish laws) with those of Hiddur Mitzva (meticulous performance of a commandment "in all its glory").
Learn More