Cyclists Bowl (Small)
$190.00
This whimsical bowl, in David Gerstein's signature design, is crafted of cutout steel printed with silk screen. These series of bowls have a unique touch which makes the art work alive and filled with motion. This bowl perfectly captures the speed and elegance of a team of bicyclists.
Out of stock
More Details
Materials: Silk screened steel
Size: 14″ diam  x  4″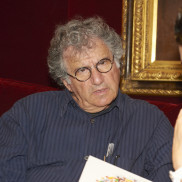 Meet the Artist: David Gerstein
David Gerstein is widely considered to be one of the most creative and innovative artists in the world today. His monumental statues adorn Israeli cities; a playground of his invention continues to delight the children of Jerusalem; the Hebrew University ordered an ambitious and challenging project from Gerstein: the design of various statues which will symbolize - based on criteria of good taste, common sense and a high level of communication - the various University institutions and faculties; a television show has chosen to decorate its broadcasting studio with his works, in the hope that the pieces' tremendous popularity will attract viewers to the show.

Learn More