Creation Mezuzah Case – On the Second Day
$160.00
And on the second day, the Almighty created the sky (Genesis 1:6-8). This mezuzah case is one of the creation series by Israeli artist and noted calligrapher Oshrit Raffeld. The design, which depicts the sky as the barrier between the moisture above and the waters below, is set in a clear frame with a "Shin" cut out on the top. Signed by the artist.
Parchment sold separately. Click here for more information.
Out of stock
More Details
Materials: painted paper, acrylic
Size: 7 5/8″ x 2″ wide by 4/4″ deep; can fit up to a 5″ klaff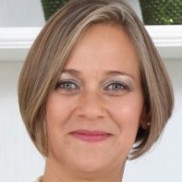 Meet the Artist: Oshrit Raffeld
Oshrit Raffeld was born and raised in Jerusalem. She specializes in the design and illumination of ketubot, megillot, scripture and blessings, using gouache colors on parchment and paper, and works on silver and glass as well.
Learn More