Silver Chai Charm Bracelet
$120.00
This sterling silver toggle bracelet by Emily Rosenfeld with its elegant teardrop has a uniquely modern feel. What better way to celebrate the joy of life – chai – than with a double centered Chai charm? Clasps securely.
Available on backorder
More Details
Materials: Sterling silver
Length: 7″; 1 1/2″ double-sided center charm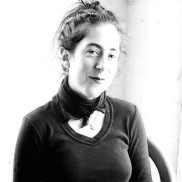 Meet the Artist: Emily Rosenfeld
Love, creativity, and community fuels Emily's work, and she crafts with joy. Emily, a jeweler by formal training, works with new materials and techniques to create jewelry, Judaica and other products that are full of joy and meaning. Her favorite metals are pewter and silver.
Learn More