Belly Dancer Dreidel
$1,118.00
The pomegranate fruits and leaves hanging from the dreidel are lifted up like a belly dancer's skirt lifts while she dances. The design reflects the biblical description of the hem of the high priest's robe, which was trimmed with bells and pomegranates. Each word of the phrase in Hebrew, nes gadol haya po (a great miracle happened here) is cut into each of the four sides of the dreidel.
Out of stock
More Details
Materials: Sterling silver, patinated copper
Size: 2″ x 2″ x 2 1/2″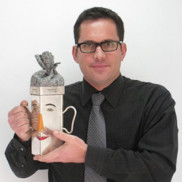 Meet the Artist: Avi Biran
Avi Biran creates contemporary Judaica that is a perfect blend of function, art, form, humor and joy. Avi studied at the Bezalel Academy of Art and Design, in Jerusalem, Israel. His artistic excellence earned him the Bezalel Prize for Outstanding Achievements and the prestigious Lucman Prize for Judaica, as well as the Jesselson Prize for Design of Contemporary Judaica awarded by the Israel Museum. His creations seamlessly integrate the requirements of Halachah (Jewish laws) with those of Hiddur Mitzva (meticulous performance of a commandment "in all its glory").
Learn More