Apples For The Rimonim (Torah Finials)
$4,900.00
In the Song of Songs, it is said: "Like an apple tree among trees of the forest, so is my beloved among the youths. I delight to sit in its shade, and its fruit is sweet to my mouth."
These Torah finials, used to decorate and protect the Torah rollers in a precious coat of sterling silver, are designed as "apples for the Torah," because, according to Talmud, the people of Israel are symbolized as an apple, while the Torah is symbolized as a candle. By setting an apple on top of a candle, the design highlights the link between Israel and the Torah. Bells are hidden inside the apples to make joyful noise while the Torah is carried around for all to see and touch.
In stock
More Details
Materials: Sterling silver, patinated copper, gold plate on brass
Size: 2 3/4″ diam x 9″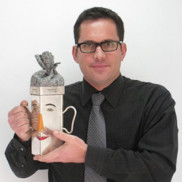 Meet the Artist: Avi Biran
Avi Biran creates contemporary Judaica that is a perfect blend of function, art, form, humor and joy. Avi studied at the Bezalel Academy of Art and Design, in Jerusalem, Israel. His artistic excellence earned him the Bezalel Prize for Outstanding Achievements and the prestigious Lucman Prize for Judaica, as well as the Jesselson Prize for Design of Contemporary Judaica awarded by the Israel Museum. His creations seamlessly integrate the requirements of Halachah (Jewish laws) with those of Hiddur Mitzva (meticulous performance of a commandment "in all its glory").
Learn More